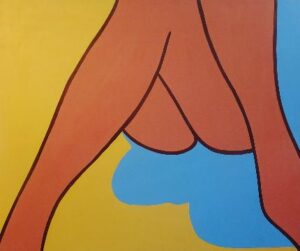 This post started in my search for the art for a different post I've written about female founders.  Of course my first image search was Helen Frankenthaler because, of course, Helen Frankenthaler.   While I love her paintings, none of the images evoked the message I was attempting to convey.  Then I googled, female pop artists:  Mind Blown.
In September 2021, Rolling Stone magazine updated the 500 Greatest Songs of All Times list.  Certainly, any list about the 500 greatest songs of all times will have a good amount of subjectivity.  But even the most hardened of Donald Trump supporters would have to admit that the pre-existing Rolling Stone list under-represented the non-white male "greatest" songs of all times and the song's performers.  Stay with me here.
So I took a closer look at female pop art painters from the sixties.  This is my thesis:
If a pile of fancy art critics, Leo Castelli and Larry Gagosian had made a list of the 25 greatest pop art painters of all times, none of the female painters listed below would have made the list.
If Leo*, Larry and our pile of fancy art critics were to update it today, at least five of these women would be in the new top 25.  Perhaps it's time to rewrite a lot of lists?
About the art:   Cover art by Elaine Strutevant covering Roy Lichtenstein in 1966.  Titled:  Lichtenstein, Frighten Girl.  Get it yet?  Insert media by Marjorie Strider, Relaxing at the Edge of the Surf.
Three Fun Facts:
Christies, Sothebys and Phillips have severely under-represented these painters.   And, their auction results search functionality sucks.
I find no proof that any of the artists have sold works for over $5 million (Sturtevant).  Where Lichtenstein $165 million,  Warhol $105 million, Rauchenberg $88 million (he wouldn't make the new list).
Finding and acquiring paintings by these artists will produce outsized returns for someone.   For me, I'll just enjoy them and hand them down to my daughter.
Seven incredible artists. Enjoy.